I collect Liliana's work because of the way I feel when I wear it. Yes, her work is beautiful. Each piece is a small sculpture in the hand and the elements are designed and composed with great care. Besides the creative, artistic, and technical aspects, I think what sets her work apart is that each piece is infused with Liliana's innate light and energy. Each time I wear a pair of Liliana's earrings or her Berry Extraordinaire, I feel inspired. _Lora R.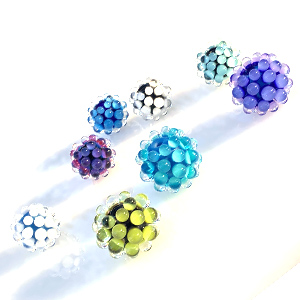 I have several pieces of Liliana's stunning works of art. I ALWAYS receive many compliments when I wear them and encourage my friends to visit her awesome shop in Natick center. She has such wonderful energy and her ability to connect with her customers is amazing! She is truly an extremely talented artist and I feel very fortunate to know her and own many pieces of her art! _Joyce H.




Love her work! Buy it and wear it frequently!!! Given it as gifts and everyone loves her gorgeous work. She is a master of the art and science of glass creations. Her gallery is like a candy shop bursting with color and design and her verbal descriptions of her creations are so engaging!!! You will not be disappointed !!! _Donna M.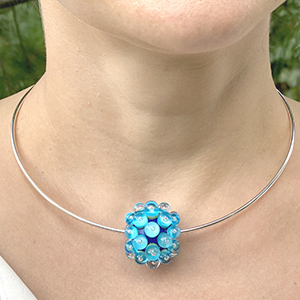 I have had the immense pleasure of taking classes with Liliana, both at Snow Farm and in her studio. Liliana is an amazing teacher, able to coax talent and capability you never knew you had. In every class I have taken with her she has given far more than expected in every way. Liliana is not only a great glass artist, she is able to teach a beginner right along side an experienced lampworker with the patience of the proverbial saint, all the while sharing her talent and ideas with an exuberance that is truly contagious. I learned a long time ago that a great artist is not necessarily a great teacher, but Liliana definitely is. _Diana S.



Liliana is a fabulous bead-making teacher and a delightful person to boot. I learned so much in her class in a short time, as she nurtured us to experiment and challenged us to observe how the glass moves and changes and responds to what we do.
Go find one of her classes! _Sally W.


Despite there being several levels of flameworkers in the class it was clear that beginners were supported and more advanced students were challenged. Liliana created a safe place for us to fail and retry, and, when we were quick to pick up a skill she would push us past it.
I learned so much from Liliana! She gave several demos, and each one built on the last. I have so much more information now, and will be able to make much more interesting projects. _Sherry
Liliana is a master craftswoman and is so willing to share her knowledge, even when we ask questions that deviate from her planned curriculum. She pushes me to be a better flameworker and I will come back and take her classes for years.

_Danielle


Liliana is an exceptional instructor. Her explanations and demonstrations are very clear and informative. She has the knack of making every student feel creative and accomplished, and she builds a wonderful sense of community in the class.

_Julie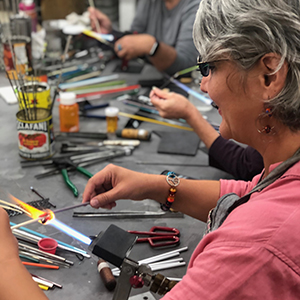 These earrings are fantastic. The color is exquisite. Shipped quickly with great packaging. _Melba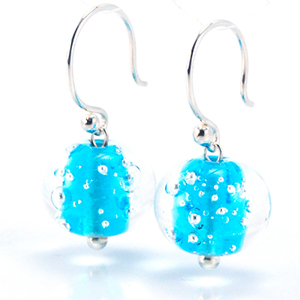 This pendant is even more beautiful in person than I anticipated from the picture. The colors and design are extraordinary. I am familiar with Liliana's work--her designs are unique, creative and true wearable art. _Ruth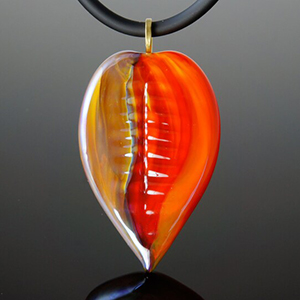 I am a bit of a lampwork bead freak, collecting from different artists over several years. Liliana's beads are the ultimate in that they are the most beautiful, detailed, delicately created, and artistic. She is an amazing artist! I once took a glass lampwork bead making class with her. She is the most lovely person you'll ever meet and she puts so much love and passion into her bead making. The bead makes an exquisite gift for any lady who loves beautiful pendants! It comes with a large bail to fit on any chain. The colors are so pretty. I find myself wanting to wear it everyday. So very happy with this bead!!! <3 _Leanne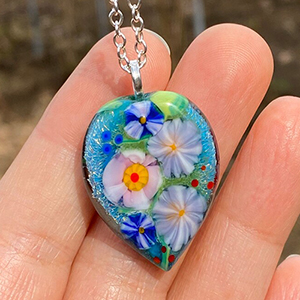 I love Liliana's jewelry!! The colors are stunning and the craftsmanship is unbelievable! Liliana is professional and warm in her interactions with customers and she is always attune to their needs.
I highly recommend this artist!! _Lynsey, owner of Sweetest Hue.